Hey Friends!
I've been sitting on a wonderful idea for the last several months and have finally found a way to make it come to life!
I used Zazzle to create my own custom running shirt to wear during my half marathon. If you'll check out the link below you'll see on the front it features that "Muffins & Love" group name. On the back are the names of all of the people who have purchased muffins, given supplies, or otherwise helped support me in making my dream of running the Disney race a reality!
I'm so excited!
And - I can still add names to it, in case anyone is interested in stopping by Operation: Love Muffin for some last-minute Valentine's Day shopping. (hint, hint!)
Want one of your own? I'm working on a special shirt for my friends, family and fans to purchase. I'll have to think of something really sweet and cute... something about you being my love muffin.
Could I be any cheesier? I propose that I could not!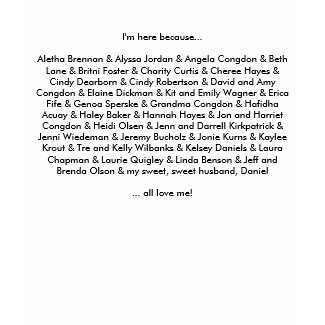 My Half Marathon Shirt!
by
beccasuecongdon
Design
personalized t shirts
at zazzle