As you know, Operation: Love Muffin took over the Condgon house for nearly a full week. During family night on Tuesday we made cookie dough and then let it sit in the fridge. On Wednesday I baked my brains out. Then Thursday was over 12 hours of frosting. Followed by a Friday of delivers in Vancouver and Portland, a Saturday with deliveries in Portland, and a Sunday with deliveries in Portland. Each of those nights also entailed staying up until 2-4am crocheting dinosaurs at the last minute. What a rush!
I should have known that I'd drive myself right into the arms of a head cold. Hehe. Now that the rush is over, I'm officially stuffy, sneezy, sniffly, and probably at least 3 other Dwarfs all at the same time.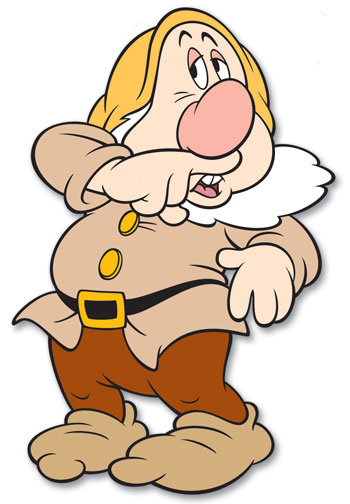 See the resemblance?
This is actually the first time I've gotten sick since I started running over a year ago...I think. When I was a high school and college student, I was sick with head colds and sinus stuff nearly constantly. I didn't even know what it felt like to NOT be congested until I graduated from college, quit my job at the Admissions office and started sleeping in and quit being all stressed out by work and projects. I guess by spending nearly a week running on 3 hours of sleep a night, and eating mostly frosting and junk fast food, I was just asking for trouble. Well... it is what it is.
This past weekend I was scheduled to run 11 miles. Instead, I talked my husband into spending Saturday and Sunday morning with our son so I could get some much-needed rest. I'm definitely feeling more rested, but somehow feel even more aware of how stuffy I am. Is it possible to both feel better AND worse at the same time?
So what is a girl to do? I am feeling nervous about my training. This week (between now and Sunday) is my last week to "train hard" before I'm supposed to start my "taper" to rest up and be ready for the race. I wouldn't think twice about laying low this week and starting my taper a little early, but my mileage these past few weeks has not been as high as my training schedule recommends. To be fair, I have only missed 3 out of 15 long runs so far - which is pretty stellar. And I've been very faithful about getting my maintenance miles and speed-training in as well. My running form buddies reassure me that I've done the hard work and should be fine. But does that keep me from worrying? Only mostly. :)
I think no matter how much training I would have done, I would still approach that finish line with some fear. Will I be able to run 13.1 miles?
Will I get overwhelmed by my own self-doubt and fear?
Will I wimp out and hitch a cart to the end?
I've done so many impossible things so far this year. I've completed my first 5k race, my first 10k, acheieved a new PR in a second 10k, and have completed 6, 7, 8, 9, and even 10 mile training runs. I've run in the HOT sun. I've run in the pouring-down rain. I've run with a screaming toddler in a jogging stroller. I've pushed myself so hard I wanted to puke - trying to keep up with my speedy friend Kaylee. I've slumped along by myself. I've attacked 2 of my scariest, "I could never do that!" hills. And I did a lot of that with shoes that didn't fit properly.
I've done quite a bit.
I think I'll decide to focus on everything I have done in the past year, instead of worrying about what I "might not" be able to do.
So where does that leave me with my last week of training? I've got two agendas;
1.) Get better!
I haven't been sick much in the past two years, but I have lingering fears of how hard my colds stuck around back in high school and college. I want to feel 100% better by race day so I can enjoy the experience.
2.) Finish my training!
I've abandoned any fantasy of setting a speed goal for this race. I've been told my (most) veteran runners that your only goal for your first race - of any distance - should be to finish. I'm usually a huge person for details and planning (I should show you all my very detailed training plan/log), and so far have followed my plan religiously. Of my 48 scheduled training runs, I've only missed 9. I'm doing pretty good so far. I've only missed runs to prevent injury, to try and keep a cold from turning into an infection, and one because I missed my busy husband. I can't go back and make any changes, and to be honest - I don't think I would even if I could. All I can do now is look at the days I have left and train smart.
With those two goals in mind, here's my plan;
Mon- I did one mile on Monday to remind my body that we love running :)
Tues - I'm going to ease back in by doing 3-5 miles
Wed - I'll get my last leg workout in while I still can. Taper = no weights.
Thurs - 3-5 miles again, speedy if I'm up for it, easy if I'm not.
Fri - My last upper body workout (no weights for me during taper!)
Sat - 11 miles
Sun - REST!
So, there's the plan. I'm not feeling happy about skipping two long runs in a row- but it is what it is. I guess we can chalk it up to an example of how important it is to do your long run when you can, because you can't count on "tomorrow." You never know what the next day will bring!
Wish me luck!